I was in Uzbekistan in 2008.
Where is this country, I heard most of you are asking.
Here's the map :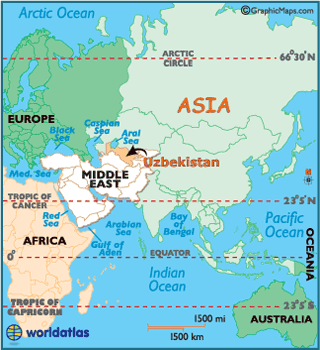 I had to go there because I love ancient history.
This is what I wrote in my other blog page :
"The Hot & Historical Uzbekistan"
I was in Uzbekistan in June, 2008.
Avoid this month as the heat is pretty unbearable !
I could actually feel my head burning underneath my smelly cap !
PLACES
:
---
History-wise, I went to Samarkhand, Bukhara & Khiva.
3 main old cities where the ancient sites are renovated for mass tourism.
The most impressive for me is the day trip from Khiva to Elliq-Qala.
There should be more than 50 fortresses which lie around the region but only a handful which are still visible through their crumbling outer walls.
Quiet impressive really.
If we go further west, we could see the disappearing Aral Sea. You must pay USD 350 with a driver if you want to see the sea from the high plains, I didn't do that.
I went to Moynaq where it once was a port but now only some ships lie abandoned on a dried plain where once it was the sea.
The eastern part of Uzbekistan is nice. Not as cool although it's near to the mountains. I stayed in this part of this country for about 1 week. In a town called Kokand.
Tashkent, the capital is pretty laidback. I love the metro stations which look like bunkers but with beautiful art decors.
More & more people come to Uzbekistan & I think it's the best one compared to its neighboring countries.
---
I stayed in cheap places.
I paid between USD 5 to USD 12 per night in these places.
Suit me just fine.
Not for everybody of course.
You MUST bargain in whatever prices that are listed in your guidebooks.
Some dormitories have air-con.
Some rooms even with attached bathroom don't have water !
Some rooms have cockroaches.
I experienced all these in Uzbekistan.
Like I said not for everybody.
You can always check the rooms or the beds first before checked in, if you don't like, go to other places !
That's the rules.
EATING
:
---
Eating is easy in this country.
But it depends if you can eat from the street stalls or just at fancy restaurants with warm cutleries.
Plov is the national dish but it's NOT available everyday or everywhere.
Shashlyks are available; Easy to locate this when you see something burning with smoke from afar.
---
Uzbeks love their vodka, the well known is called Sarbast.
Mineral water is easy but not easy to find non-carbonated mineral water.
My advice, look for lemon-flavored carbonated drinks as it can sooth your whole body during the hot days around Uzbekistan.
Also, cherry drinks are everywhere.
Once in a while, you see this weird science experiment with cylinders & colorful water coming out from them.
I tried them, it's sweet but I didn't know what it was.
---
Metros only cost 300 som from one point to another even though you have to change stations.
Mashrutkas (minivan vehicles) rides, if taken around town (normally with numbers on them), pay no more than 300 som.
If taken to places out of town, you MUST bargain with the drivers first.
Buses tend to be old & bumpy.
If the buses look new, there's no air-con.
If there are more men passengers on the buses, you can expect many stops for peeing, for smoking. Meal-stops are once everywhere 4 hours or so.
So, make a trip to Uzbekistan as there are ancient sights to see in & around the country.